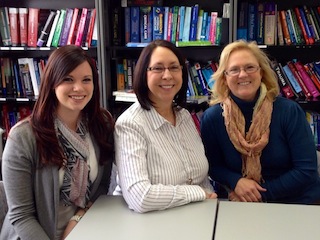 The Branch County Community Foundation is currently accepting scholarship applications for nursing students through the Lyndsay Sharp Bingaman Nursing Scholarship Fund, a charitable endowment fund administered by the Community Foundation. Residents of St. Joseph and Branch County who are current nursing students can find applications for the scholarship on the Foundation's website at www.BRCOFoundation.org or by calling 517.278.4517. Applications are due by March 21, 2014.
High school graduates with documented acceptance or attendance in a nursing program are eligible to apply for the scholarship. Documented acceptance or attendance in a nursing program accredited by the Commission of Collegiate Nursing Education (CCNE or National League for Nursing Accreditation (NLNAC) is necessary to apply. Preference will be given to prior recipients, graduates of Mendon or Colon High School, acceptance in a registered nursing program, full-time enrollment, and applicants with financial need, community involvement, strong work history or volunteer history is suggested. GPA must be a 3.0 on a 4-point scale. There will be up to five $1,000 scholarships. Bingaman, a graduate of Colon High School was attending college and was working as a nurse at Bronson Hospital when she was died as a result of a car accident in 2000. This fund was set up by her family in her memory.
According to Miranda Smith, last year's recipient of the scholarship, and a current nursing student at Western Michigan University "Receiving the Sharp Bingaman Scholarship has really helped me relax more in terms of finances during nursing school. The extra help was extremely nice, and I appreciate the little break it allowed me to have financially." Another recipient of the scholarship Rhonda Broekema graduated in December 2013 with her degree in nursing and recently passed her NCLEX boards and has been hired at Borgess Medical Center in one of their Intensive care units. 
The Branch County Community Foundation is a non-profit organization and a nationally accredited and state-certified community grantmaking foundation that serves communities in Branch County and Colon, Michigan by supporting charitable giving, building permanent endowments, and connecting community resources. For more information about making a donation, please contact the Branch County Community Foundation by calling 517.278.4517 or visit their website at www.BRCOFoundation.org
Pictured is Miranda Smith, Jan Eichel (donor) and Rhonda Broekema