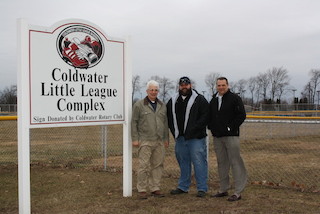 Last fall, Coldwater Little League Association Members agreed that funds were necessary for a grounds renovation project within Heritage Park. The organization approached the Branch County Community Foundation who will be the fiduciary of the funds creating a special project fund and accepting donations for the project from community members and organizations.
The grounds project will be completed in two phases. The first will include extensive infield renovations of six fields to have them cut, cleaned, graded, re-sodded, and top dressed with a professional product and is estimated to cost $120,000. The second phase will be to construct cement block structure dugouts with secured maintenance storage room in the third base dugouts with an estimated cost of $88,000 for a total project cost of $208,000. Targeted completion date is fall 2015.
The Grounds Renovation Committee comprised of Joe (Cork) Tinervia, Denny DeCaire, and Tony Akers have created opportunities for donors to give at different levels. Home Run Level is available for those that give $20,000 or more; Triple Level for those who give $5,000-$19,999; Double Level for gifts from $1,000 to $4,999; Single Level $100-$999; and On Deck for gifts from $10-$99.
The organization boasts 61 years of Little League offered in Coldwater; an average of 600 children are registered each summer; three district championship wins in 1983, 1991, and 1993, and one regional championship in 1993.
"We consider this a great community building activity encompassing more than one positive outcome. The updated fields will enhance the overall look of the area where other renovations and new building are taking place. Little League will continue to help young people learn leaderships and teamwork.  And the updated facilities open up the potential to bring tournaments to Coldwater, and with that families who will use hotels, restaurants, and other local businesses So, working together with the Renovation Committee to raise funds for this project is a great economic development pursuit, as well," said Colleen Knight, Branch County Community Foundation executive director.
"We were referred to the Community Foundation through the City of Coldwater officials. We formed a partnership because we wanted to focus on fundraising and managing the project once it starts, and we knew the Foundation could help with the back office work. And they've been able to help us with developing marketing materials, too," said Tinervia.
The Community Foundation establishes special project funds to help people raise money and grant the proceeds to a particular community project or cause--with recordkeeping and other support from the Community Foundation.
The Branch County Community Foundation is a non-profit organization and a nationally accredited grantmaking foundation that serves communities in Branch County and Colon, Michigan by promoting community philanthropy, building endowments and other charitable funds, and connecting community resources.
For more information about making a donation, please contact the Branch County Community Foundation by calling 517.278.4517 or visit their website at www.BRCOFoundation.org
Pictured is Coldwater Little League Association Renovation Committee Members Tinervia, Akers, and DeCaire with the little league fields behind them.