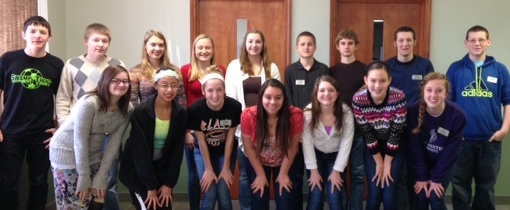 In May, 17 members of the Branch County Community Foundation Youth Advisory Committee (YAC) ended a busy program year. YAC members from Coldwater, Quincy, Colon, and Bronson Schools are dedicated to effective grantmaking, endowment building, leadership, and improving the viability of our communities by involving youth in the visioning and decision-making process. The organization accepts grant applications and looks for community projects that allow them to further their mission.
Throughout the program year YAC members received 14 grant applications and provided funding for close to $25,000 for community projects like the Arab American Society Soccer Tournament, Branch County Coalition Against Domestic Violence Teen Share program, and Pansophia Music Program expansion.
Together YAC members partnered with the Michigan Youth Opportunity Initiative and purchased material to make blankets for the pediatric units of local hospitals and they volunteered with Animal Aid of Branch County in the spring.
Anyone ages 12-21 is welcome to apply for YAC membership. The only criteria are commitment to attending meetings and participating in YAC events and a love for and desire to serve your community. YAC meetings are every third Sunday of the month from August through May. Those interested in applying can visit BCCF's website www.brcofoundation.org and click on the YAC tab to retrieve a copy of the application. Youth are welcomed to apply anytime during the program year. For more information about becoming a member of YAC, contact Daniela Angevine at 517.278.4517 or at info@brcofoundation.org